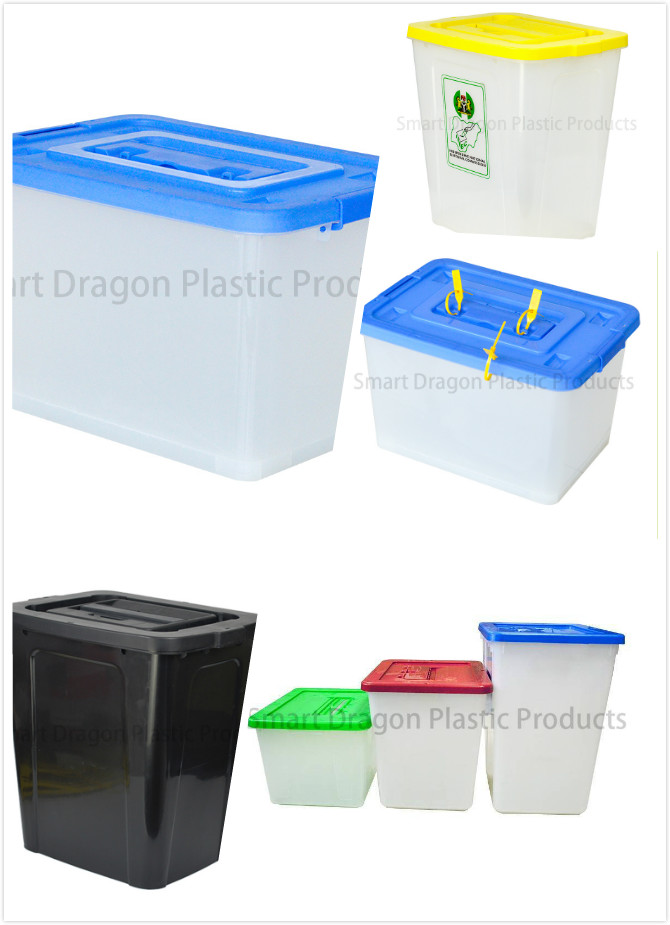 Voting session poses a contentious issue in our region. However, having the scant evidence that it may pose a threat, there has to be a method to curb it. The issue can be handled using the right equipment and considering their maintenance. In this case, ballot boxes and their seals are the only way to curb any threat. There are plastic ballot boxes used in the region. The ballot boxes used should have a high-density plastic construction which is visible to ensure proof of not tampering with the session. However, there are other durable plastic ballot boxes that are considered the best. They are light, easy to dispose of and are made of corrugated cardboard or plastic sheet.
The best ballot box has been the plastic ballot box which is transparent to offer proof to the targeted audience which are voters and election officials. The box is medium in size and has a seal to ensure that the casted secret ballots cannot be removed from the ballot boxes unless after breaking the seals and locks used for security. The targeted demographic also need to be assured that nothing else has entered inside the ballot boxes or has been picked out of the ballot boxes too.
In addition, it is worth informing and educating the targeted audiences of the advantages of the plastic ballot boxes which are transparent. Moreover, the plastic ballot easily allows the ballots to pass easily after they are folded in the right manner and inserted through the slot. Some of the expensive ballot boxes are designed to have a lockable slide that seals after the ballot paper is inserted. Their expensive option offers no more security other than to cover their slots using security tape after closing the voting session. However, there is also another different ballot box on the market that is gaining popularity.
A Voting DropBox.
This is being used in various parts of the world. For instance, Californians use a secure lockable ballot container that is placed inside a drop box or at times a stand-alone container. When a secure ballot container is used inside a drop box, ballots are deposited straight into that container. However, it is not necessary for secure ballot container to all be in drop boxes.
Sometimes a "Staffed drop box" or a ballot container is placed in the locality of a city or a county employee, a temporary worker or even a volunteer is retained for the purpose of maintaining or monitoring the drop box. Most of the times a staffed drop box is only available to a voter at a specified time during the day. It is also possible to have a Vote-by-mail ballot drop-off location or "drop-off location" as prescribed in the California Code of Elections section 3025(a)(2).
The significant figure of the plastic ballot box
The most significant figure of the plastic ballot boxes includes their transparency, size, and weight of the construction plastic material used. It mitigated the bigger cardboard ballot boxes which were made from durable heavy materials. The plastic ballot boxes are easily made and range in size from the easily portable and compact which can be used in the mobile voting session. In addition, there are other bigger sized ballot boxes used in large floor standing models that can accommodate the whole voting session to be done in one big ballot box thus serving a larger number of voters at that period.
Appropriate materials
The efficiency of the ballot box is not mostly guaranteed by the strength of the material that was used or the size of the security used to lock them. The lightweight cardboard ballot boxes after they are properly sealed they offer no less security or transparency more than the ones made from durable materials. Focusing on their cost-effectiveness in terms of lower cost of transport, negligible maintenance, storage costs, and flexibility in terms of size. The plastic ballot boxes are suitable for any environment whether the wet or very humid environment, unlike the traditional cardboard ballot boxes.
Making long-lasting efficient Ballot Boxes
One of the leading Manufacturers of durable ballot boxes includes Smart Dragon Plastic Products Company founded in 2002.The firm boast of a large clientele and a range of various plastic ballot boxes that are highly customizable and made of high-quality PP material. Their ballot boxes transparency varies. These also come in different volumes for a consumer's choice like 40L, 60L, 70L, 100L. The lid color is normally customizable upon a client's request. These products also are lightweight making them portable and easy to stack on one another making them easy to store. They also offer high-quality tamper-free seals thus making election materials safe after sealing of the boxes. Their seals are of stamping or laser marking, bar code, serial number, and the locking rod are from 2 to 5 flat rods. When a plastic seal is applied, you can adjust for optimum security. Basically, a client has a wide range of choices to make, different materials, shapes, artwork, colors, styles, all of which are highly customizable.
In summary, despite all controversies surrounding election malpractices, and cries of the skeptics, a transparent plastic ballot box is a cheaper option to the voter drop box, therefore, it is highly adopted in many counties. More importantly, it as a symbol of transparency in democratic forms of government
However, the plastic ballot boxes can be used over a long period of time and that proper maintenance should be ensured. That means the responsible voting officials will ensure that they retrieve them from their respective voting stations to their stores. They should be regularly inspected and proper stock taking ensured. In that case, the officials should regularly inspect their storage stores and make any necessary repairs or replace in case the need arises.
The uniqueness of plastic ballot box from plastic container manufacturer
The plastic ballot boxes can be made in a unique way that makes easily marked while transported to the counting stations. In addition, the officials can also use the unique codes to make it easy to identify the plastic ballot boxes while counting especially where other unidentified boxes were used for different voting centers.
Conclusively, the plastic ballot boxes have special seals for security purposes. The tamper-proof seals of the plastic ballot boxes offer a robust guarantee of the integrity of voting. The ballot boxes should be sealed immediately the voting session is commenced to their opening, and after closing the session until removal of the ballot papers for counting.